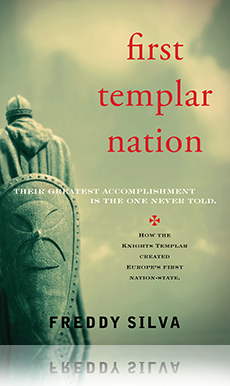 From the Freddy Silva's new book 'First Templar Nation: How the Knights Templar created Europe's first nation-state' (i.e. Portugal – KTV):
The Templars' Greatest Accomplishment: The One Story Never Told.
"On Easter Sunday 1118 a new king of Jerusalem was chosen, Baudoin de Bourcq, cousin of the late king Godefroi de Bouillon. Like his former family members, he too had served on the First Crusade. Barely had Baudoin II gotten used to his newly appointed seat when he received a visit from Hugues de Payen and Godefroi de Saint-Omer, as though the two intrepid knights were presenting their credentials.
They may have received a less enthusiastic reception than from his predecessor, for Baudoin II was in desperate need of warrior knights above spiritual warriors. Nevertheless, whatever Hugues and Godefroi pitched the new king it sold him, and shortly after, a small, close-knit group of knights moved into premises on Temple Mount to became officially known as the Knights Templar. But what if it could be shown that seven years earlier the Templars were already present and materially active in another land two thousand miles to the west, and through their intervention, it became their greatest accomplishment — the creation of Europe's first independent nation-state?"
Buy the entire book here.