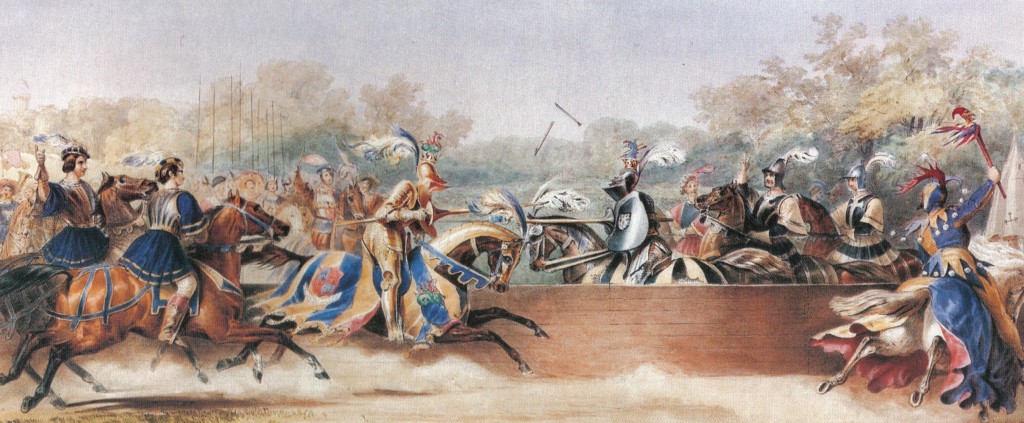 One of many great tales found in "Legends of the Knights Templar."
Walter Map included in his book "Courtier's trifles" a story about a certain pious knight by the name of Aimery who was once travelling with his friends to a tournament. He suddenly heard the distant ringing of a bell and wished to stay back and attend the mass. Aimery's friends tried to dissuade him, but it was no use. He took off, leaving his squires and his armor. In the woods, Aimery came across a community of hermits and attended mass in their midst. When he decided to rejoin his comrades, he could not find the way back to the main road. Only on the third day, accompanied by one of the hermits, Aimery came across his friends returning home. To his great astonishment, they proceeded to praise and congratulate him. At first Aimery suspected that they were being facetious, but after talking to his closest friend, he realized that someone participated in the tournament in his place, with amazing success. This certainly was a case of divine intervention. Moved by this wondrous occurrence, Aimery decided to join the Knights Templar.
Complete Latin story by Walter Map:
Miles quidam, Hamericus nomine, magni patrimonii, famae modicae, petebat exercitium militare, quod torniamentum ducunt. Cumque per nemus altum iter ageret, audivit ad missam matutinam a longe pulsari campanam, sociisque dissuadentibus et invitis ut missam audiret properavit, armigeris et armis relictis in comitatu. Heremitas invenit. Missa celebrata redire festinavit ad socios, sperans eos in secundo vel tertio consequi miliario; sed tota die devius sero reversus est ad locum missae. Similiter et in crastino. Die tertia conductus ab heremita socios invenit redeuntes, ipsique multa laetitia congratulantes. Miratur solito majorem sibi venerationem exhiberi; timeat ironiam. Familiarem ergo socium vocat in partem, quaerit quomodo casus eis in torniamento responderit. Intulit ille, "Bene nobis et manu tua, sed inimicis male, qui tamen hodie reversi sunt ad nos ut te pro tuorum operum admiratione viderent, sed ut heri recessimus ad hospitia, nemo nobis de te quicquam certitudinis dicere potuit; asserunt et armigeri tui quod armis tuis a te receptis ab oculis eorum evanisti cum equo tuo. Si vero cupis audire quod de te loquuntur in via, demissis vultibus audamus." A transeuntibus igitur secus eos audierunt Hamerici praeconia per singulos et magnas laudes hominis per timiditatem prius infamati. Miratur ipse, nullius meriti conscientiam habens, et vis tandem advertit quod ei dispensaverat Dominus vicarium, ne gaudere socii sui possent de missa despecta, vel ipse dolere de respecta, deditque se cum omnibus quae possederat Deo domuique Templarium, at auxit eos multum, ut dicitur.
The watercolor painting is by James Henry Nixon (1802-57).
Want to read more stories about the Knights Templar? Check this out:
Legends of the Knights Templar