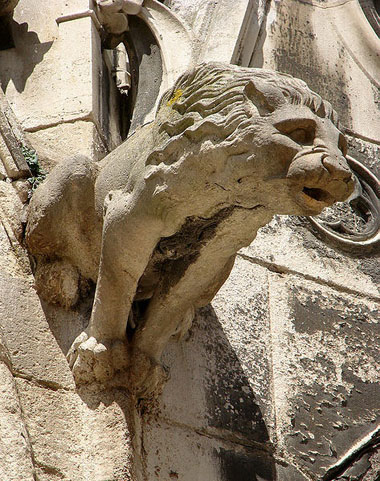 The Templar Rule, while prohibiting hunting and falconry, permitted the Knights to hunt lions because "the lion comes encircling and searching for what he can devour." The phrase, of course, is a very clear reference to 1 Peter 5:8:  "Be sober, be vigilant; because your adversary the devil, as a roaring lion, walketh about, seeking whom he may devour". It is likely that this curious clause indeed referred to the spiritual battle, but real lions presented a serious threat to pilgrims in the Holy Land. It would have been unwise to prohibit the knights from killing these animals. Still, the main connection between lions and the Knights Templar lies in the realm of symbolism.
The lion is an ancient and powerful symbol, well represented in medieval European heraldry. It is not surprising that lions can be observed on some Templar seals. They were also used as architectural elements. Thus, according to the historian known as the "Templar of Tyre", the tower of the Templars' bastion in Acre was topped with four gilded lions passants, each the size of a donkey, costing fifteen hundred bezants — certainly a sight capable of conveying the notion of the Order's might and wealth. However, the Knights Templar probably chose this popular symbol not just because of its commonly accepted connotations of strength and military valor. Bernard of Clairvaux, in his famous tract In praise of the new knighthood, specifically compared the Knights Templar to ferocious lions, while also pointing out their lamb-like meekness (one might remember that the lamb is another symbol that the Knights Templar often used, as evident in some of the Order's seals):
Ita denique miro quodam ac singulari modo cernuntur et agnis mitiores, et leonibus ferociores, ut pene dubitem quid potius censeam appellandos, monachos videlicet an milites…


And so finally, in a wonderful and remarkable manner, they are observed to be both gentler than lambs, and fiercer than lions, so that I almost doubt which I had better determine to call them: monks or soldiers...
[click to continue…]