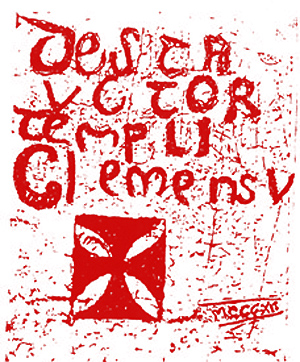 This is a characteristic Templar graffiti from Domme (department of Dordogne, France), shown in red to enhance the image of the cross:
Destructor Templi Clemens V. MCCCXII
Destroyer of the Temple, Clement V. 1312.
The year, given in the graffiti, is the date when the Order of the Knights Templar was officially dissolved by the decrees of Pope Clement V. The papal bulls acknowledged the absence of sufficient evidence to condemn the Knights Templar, so the Order was disbanded on the grounds that its reputation had been damaged irreparably. It has been established that even many cardinals of the Church were unhappy with this decision. The graffiti (there are similar ones found at Domme) shows a very distinct attitude towards Clemens V. But whose attitude is it?
During the trials of the Knights Templar, Domme was among the places where members of the Order were imprisoned. The style of the letters used in the inscription generally matches known examples from the 13-14th centuries. In my opinion, the phrase itself indicates that the inscription was made before the death of Clement V (which is corroborated by the date, 1312). It seems that after 1314 there would have been vengeful references to divine judgment against the Pope. Therefore, it is very likely that the inscription was actually made by a Templar in 1312.
The cross that accompanies the inscription is also quite interesting. It is definitely the splayed cross that we now associate with the Knights Templar, drawn within a square.
See also: Knights Templar cross