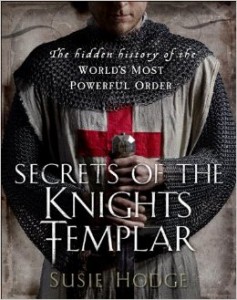 Buy Secrets of the Knights Templar at Amazon.com
Buy Secrets of the Knights Templar at Amazon.co.uk
Susie Hodge has previously written on the subject of the Knights Templar, but this newly published book is more substantial and comprehensive. It also follows a signature trait that Hodge, a prolific writer, displays in many of her publications: stunning illustrations. Full color, full page (without margins) images will be for sure the very first thing you will notice. No other book on the subject is as lavishly illustrated.
When the book first came out in the UK and I shared the image of its front cover with my fans it was immediately noted by some that the Templar knight pictured on it is not very accurately portrayed: the armor and the sword apparently do not belong to the right century and the lack of facial hair is in striking disagreement with the standard Templar practice of wearing a beard. Truth be told, I have since seen noticed some beardless Knights Templar in medieval manuscript images, so perhaps one should not be bothered by this so much.
Apart from the engaging visuals that are present in the book, the choice of topics and approaches is fairly standard for any comprehensive book about the Knights Templar. You will find sections on the history of the Order, as well as background information about the Crusades and the Holy land in general. It is important to remember, however, that this book was not meant to be an academic publication. As a result, you will not find references to scholarly works about the history of the Knights Templar. S. J. Hodge is using reliable primary and secondary sources, but the reader will be left in the dark as to how the facts discussed in the book can be verified and where to find additional information. Given the format of the book this may not be a significant issue, but if you are interested in academic-style research you will not be fully satisfied. However, the facts laid out are quite solid and anything outside of the mainstream scholarly opinions is presented with a degree of caution. Combined with great images, this makes "Secrets of the Knights Templar" a good introduction into the history of the Order. It goes without saying, of course, that the title of the book should not be taken too seriously. You will not find any secrets revealed in this book.
A review copy was kindly provided by the publisher (Quercus).