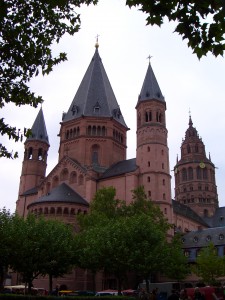 In 1310, prior to the council of Vienne, a local council was convened by Peter, the Archbishop of Mainz. Acting on the orders from Pope Clement V, the council was supposed to participate in determining the fate of the Knights Templar. However, the main reason for which this council is remembered is one the most stunning displays of Templar resistance to unfair treatment of the Order by both ecclesiastical and civil authorities that took place that day in Mainz.
As soon as the council began its deliberations, the meeting was interrupted by an impressive spectacle of Templar might: At least twenty knights clad in Templar uniform and fully armed (probe armati) burst into the building. The group was headed by Count Hugo of Grünbach (or possibly Grumbach). When the archbishop, fearing bloodshed, offered the count to take seat and to state his business in a calm fashion, Hugo instead stood in the midst of the assembly and addressed it in a loud and clear voice. The count explained that he was aware of the council's intent to judge him and his comrades for crimes that they themselves found most disturbing and vile. Hugo made it clear that he believed the present pope to be an unfair and ruthless tyrant (to quote one account of the incident), therefore he expressed his wish to petition the future pope of Rome. He thought that the innocence of the Order could be demonstrated to a newly elected Supreme Pontiff. As one way of proving the Templars' good standing in matters of faith count Hugo claimed that when brothers of the Order were burnt at the stake the red crosses on their mantles remained intact. The Archbishop had little choice but to grant the Templars their wish. However, because Clement V was alive (although rumors about his health problems already circulated, as it becomes clear from Hugo's speech) the bishop wrote to him. In response, Peter was ordered to continue investigating the Knights Templar. According to  Jacob of Mainz, in June of 1311 the Archbishop of Mainz granted absolution to the Knights Templar in his region, on the grounds of their innocence.
There is little doubt that the incident indeed took place, although some details are unclear. The story appears in Johannes Nauclerus' Chronica and Jacob of Mainz is named as its source. It appears that another handwritten account was used by Nicolaus Serrarius and reproduced in Sacrorum conciliorum nova et amplissima collectio, t. 25. Nicolaus Gürtler in his Historia Templariorum indicates Nauclerus as his main source, however the speech that he attributes to Count Hugo does not appear in Chronica or elsewhere. Whether Gürtler composed this little oration himself (which is somewhat out of character for him) or took it from yet another account, it certainly represents the dramatic mood on the day of the incident:
Ego quidem, Moguntine Praesul, audio hac vos convenisse die ut me meosque fratres, sancti atque nostro sanguine occupati diusque defensi et Christianis servati templi milites, heic mecum stantes, devoveatis diris, et omni suppliciorum genere e medio tollatis: scito autem, et praesenti clero tuo indicato, quia gravius quam pro merito in sanctissimum et rei Christianae utilissimum Ordinem animadvertitur, me et meo et fratrum meorum injuste oppressorum nomine, Romanum Pontificem in Clementis iniquissimi juxta et inclementissimi tyranni locum proxime eligendum appellare, cui Ordinis nostri innocentiam, totique Christiano orbi probabimus.
So I heard, prelate of Mainz, that you have convened today in order to invoke dire curses upon me and my brothers standing here with me, the Knights of the Holy Temple that was conquered by our blood, defended for a long time and preserved for the Christians, and to remove us from your midst by every kind of punishment. But you should know now and tell your clerics present here that, because our Order, holy and most valuable for Christendom, is being prosecuted more gravely than it deserves, on behalf of myself and my unjustly oppressed brothers, I call for the immediate election of a new Roman Pontiff instead of Clement, the unfair and ruthless tyrant. To that Pontiff and to the entire Christian world we will prove the innocence of our Order.