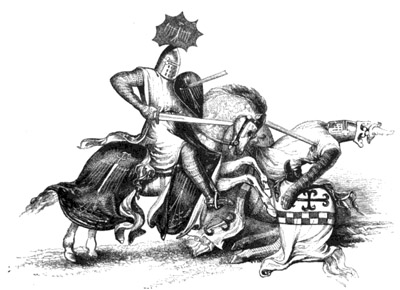 Need a good proof for the fact that Masonic Templarism that became so prominent in the 19th century is in no way connected to the original Order of the Knights Templar? Here it is.
Templar Freemasonry amongst its various symbols uses what is termed abacus – a wooden staff of office. You will spend countless unfruitful hours trying to find a single dictionary where this word is defined in a suitable sense. It just so happens that the originator of this most solemn Masonic term was none other than Sir Walter Scott. In his novel Ivanhoe, which features a rather unsavory Templar Knight character, we find this passage:
In his hand he bore that singular abacus, or staff of office, with which Templars are usually represented, having at the upper end a round plate, on which was engraved the cross of the Order, inscribed within a circle or orle, as heralds term it.
Abacus, of course, is a primitive computational device. As any Latinist should know the word for 'staff' in Latin is 'baculus'. This is, in fact the word used by the Knights Templar in their documents to describe the Grand Master's staff. The similarity of 'abacus' and 'baculus', coupled perhaps with the fact that a diminutive of 'abacus' would be 'abaculus' we may suppose a possible chain of events that took place in the novelist's mind: "a baculus" – "abaculus" – "abacus". But that's really not all that important.
The important question is:
How would it be possible for a group that claims to have descended from the medieval Order of the Knights Templar to use Walter Scott's novel for inspiration and freely borrow the author's clearly misplaced term? If Masonic Templars were unable to get one single word right, being so influenced by Walter Scott's usage, how on earth could they possess a single morsel of the Knights Templars' spiritual tradition (provided such a tradition really existed at some point)?