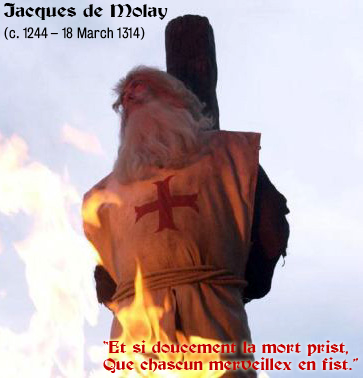 On March 18, 1314 Jacques de Molay, the last Grand Master of the Knights Templar was burnt at the stake in Paris. A medieval poetic account tells the story of his bravery, composure and faith during the execution (Chronique métrique de Godefroy de Paris). According to this chronicle, Geoffroi de Charney was executed minutes after de Molay already became a martyr.
Keep in mind that the original text of the poem is in Old French, which explains the grammar and spelling. This translation is from the English version of Alain Demurger's The Last Templar, an excellent recent biography of the last Grand Master.
The master, who saw the fire ready,
Stripped with no sign of fear.
And, as I myself saw, placed himself
Quite naked in his shirt
Freely and with good appearance;
Never did he tremble
No matter how much he was pulled and jostled.
They took him to tie him to the stake
And without fear he allowed them to tie him.
They bound his hands with a rope
But he said to them: "Gentlemen, at least
Let me join my hands a little
And make a prayer to God
For now the time is fitting.
Here I see my judgement
When death freely suits me;
God knows who is in the wrong and has sinned.
Soon misfortune will come
To those who have wrongly condemned us:
God will avenge our death.
Gentlemen," he said, "make no mistake,
All those who are against us
Will have to suffer because of us.
In that belief I wish to die . . . "
And so gently did death take him
That everyone marvelled.
Le mestre, qui vit le feu prest,
S'est dépoillié sans nul arrest;
Et, ainsi com le vi, devise;
Tout nu se mist en sa chemise
Liement et à bon semblant;
N'onques de riens n'ala tremblant,
Combien qu'en le tire et desache.
Pris l'ont por lier à l'estache.
Cil liez et joiant s'i acorde;
Les mains li lient d'une corde,
Mès ains leur dist: «Seingnors, au moins,
» Lessez-moi joindre un po mes mains,
» Et vers Dieu fere m'oroison.
» Car or en est temps et seison :
» Je voi ici mon jugement,
» Où mourir me convient brement;
» Diex set qu'à tort et à péchié ;
» S'en vendra en brief temps meschié
» Sus cels qui nous dampnent à tort:
» Diex en vengera nostre mort.
» Seiognors, dit il, sachiez, sans tère ,
» Que tous celz qui nous sont contrère,
» Por nous en aront à souffrir
» En ceste foy veil-je mourir:
» Véz ci ma foy; et je vous prie
» Que devers la vierge Marie
» Dont Nostre Seingnor Crist fu nez,
» Mon visage vous me tornez.»
Sa requeste l'en li a fet.
En ceste guise fu desfet,
Et si doucement la mort prist,
Que chascun merveillex en fist.
See also these articles:
Famous Knights Templar
Templar cross