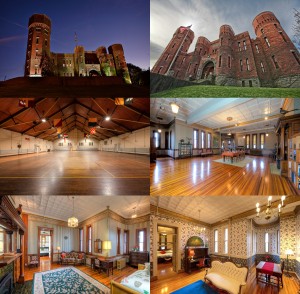 Castle for sale in upstate New York. Built for the National Guard in 1894. I actually remember seeing this property on one of HGTV shows. The baron's family must have fallen on hard times. The price is right at $1,000,000.
"The Amsterdam Castle is now used as a 36,000 square foot private residence Listed on the National Register of historic places, this magnificent facility has 50 rooms, including a 10,000 sq ft ballroom, a rifle range, and a fallout shelter and billiard room. It is currently used as a living and commercial space, featuring 4 turrets, 3 living wings, elegant reception rooms, and a terrace. The building has a 10-car garage, onsite parking for 40 and ample street parking."
Never mind the Victorian entourage. It would actually be neat if this building went to some collector/reenactor type. I might rent a vault to store my secret archives!
See also:
Italian Castle for sale