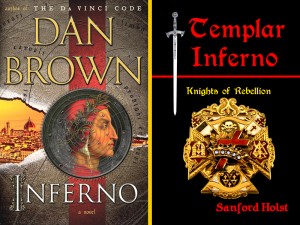 No matter how one views Dan Brown's novels, his thrillers definitely add some excitement to the life of any rank and file Knights Templar researcher. If there is one thing that The Da Vinci Code proved conclusively, it's the fact that the Templars have something to do with everything. It is no surprise that the need for expertly written companion volumes (unofficial, of course) that help uninitiated readers get the most out of Dan Brown's books has been met by Michael Haag, the author of two books on the Knights Templar (The Templars. History and the Myth and The Tragedy of the Templars). Michael wrote a very successful companion to The Lost Symbol and is currently working on a book that will sort out the esoteric underpinnings of Inferno, the latest Robert Langdon novel to date (unpublished at the time of writing). When I noticed that Amazon already carries a book by Sanford Holst, entitled Templar Inferno, which purportedly fills the same niche, my first reaction was that Michael must have already purchased a copy and would be able to honestly say whether the book was worth the money or not. Turned out that he was aware of this work, but has not purchased it… Then curiosity got the better of him, and a few days later Michael reported the following:
I now have the book.  It is clearly a book written some time ago, the standard Templar fare with a two-page foreword tacked on called Dan Brown's Inferno, about which Holst says it will be all about the Templars, because Dante wrote Inferno, which is about people burning, as he was inspired by Templars burning all round him.  For this two page nonsensical foreword Holst has managed to get a lot of publicity and sell quite a few books.
May it be known, that parts of Michael's reaction were omitted at his request, although personally I did not feel that he spoke too harshly. From what I have seen of the book, it is not all that well written. The author struggles with basic facts about the Knights Templar, while making claims that need a lot more support to be considered plausible. Not recommended!