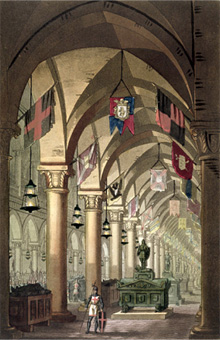 This website is dedicated to the history of the medieval Order of the Knights Templar (Pauperes commilitones Christi Templique Salomonici). If you are looking for a concise and accurate historic account of this famous chivalric organization be sure to check out my book Legends of the Knights Templar. It also contains a definitive collection of myths and stories that made the Order so popular.
My personal interest in this topic initially stemmed from working on a leisurely project — translation of Nicholas Guertler's Historia Templariorum (History of the Templars), an antique late 17th century book which represents a very early attempt at an 'unbiased' treatise of the order's history. There are some excerpts from this book on this site. You will also find articles covering different aspects of the Order's early years, specific battles in which the Knights participated,  and finally their trial in the early 14th century. Some materials deal with Medieval History in general: books, movies, manuscripts, online resources, works of art etc.
I never stay away from discussing  dubious and mythical conceptions regarding the Middle Ages and the Knights Templar, although I tend to be rather skeptical. Primary sources are my personal favorite. I like to translate these texts from their original Latin and make them available in English (sometimes for the first time) on this site. It is my hope that they will be of value to researchers and enthusiasts. For additional content and a way to submit your inquiries, be sure to join the site's FaceBook page. You can also support this site in many other ways. If you would like to be notified whenever new articles are posted on this site, use this simple service powered by WordPress.org.
Subscribe to Blog via Email
Here are some of the most popular pages on this site:
I also have some topics for which user input is strongly needed, if you are true history buff ready to share some info: